HOTEL NYX BILBAO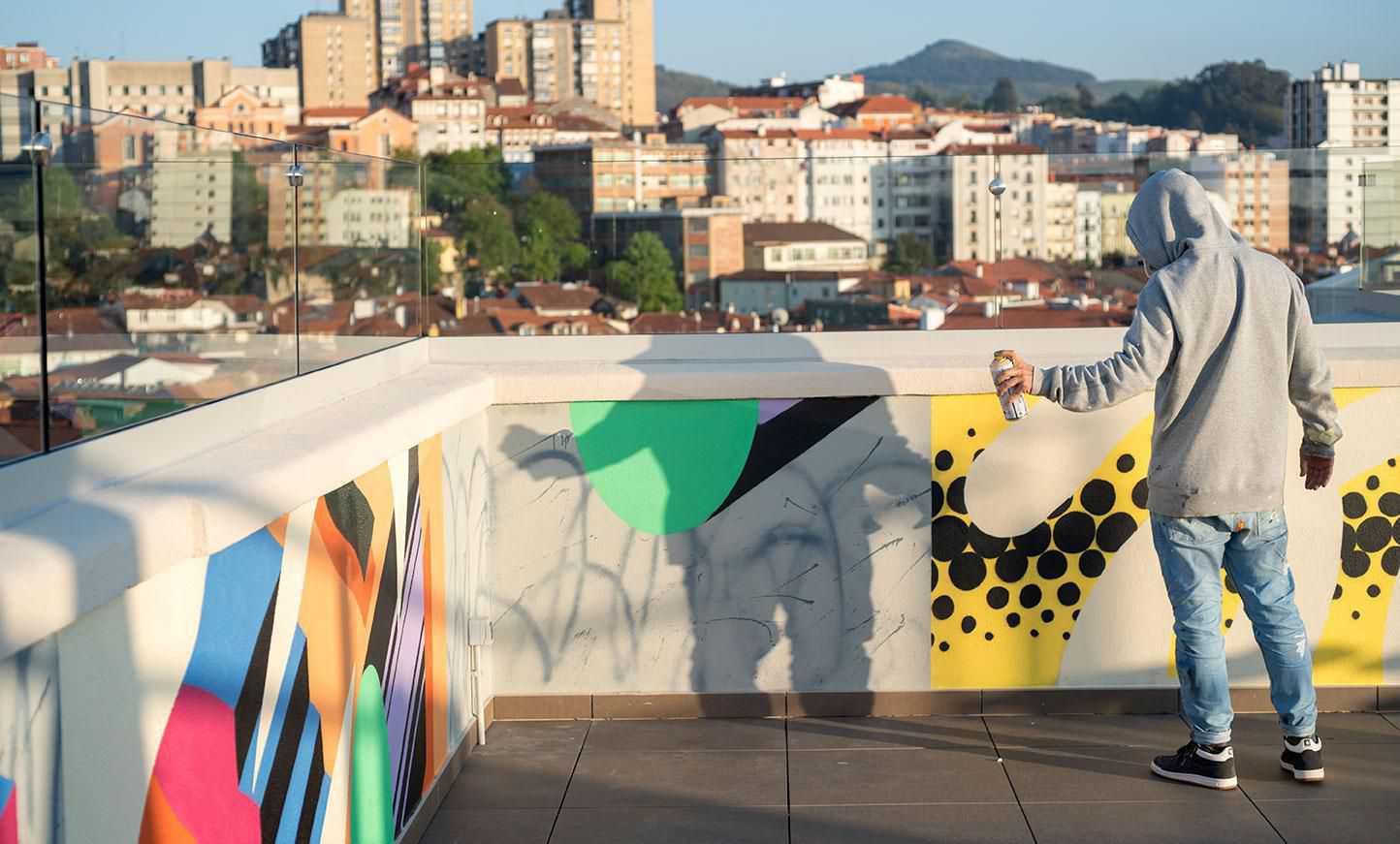 After NYX Madrid, Urvanity Projects curated the artistic program of the new NYX Hotel Bilbao, where visitors can now enjoy a selection of unique site-specific works. In line with the artistic concept of the NYX Hotels, we worked with recognized and emergent local artists who created a series of murals, video installations and works which transmit a different point of view of the new contemporary art scene in the North of Spain's to the hotel guests.
Raquel Meyers (Patio)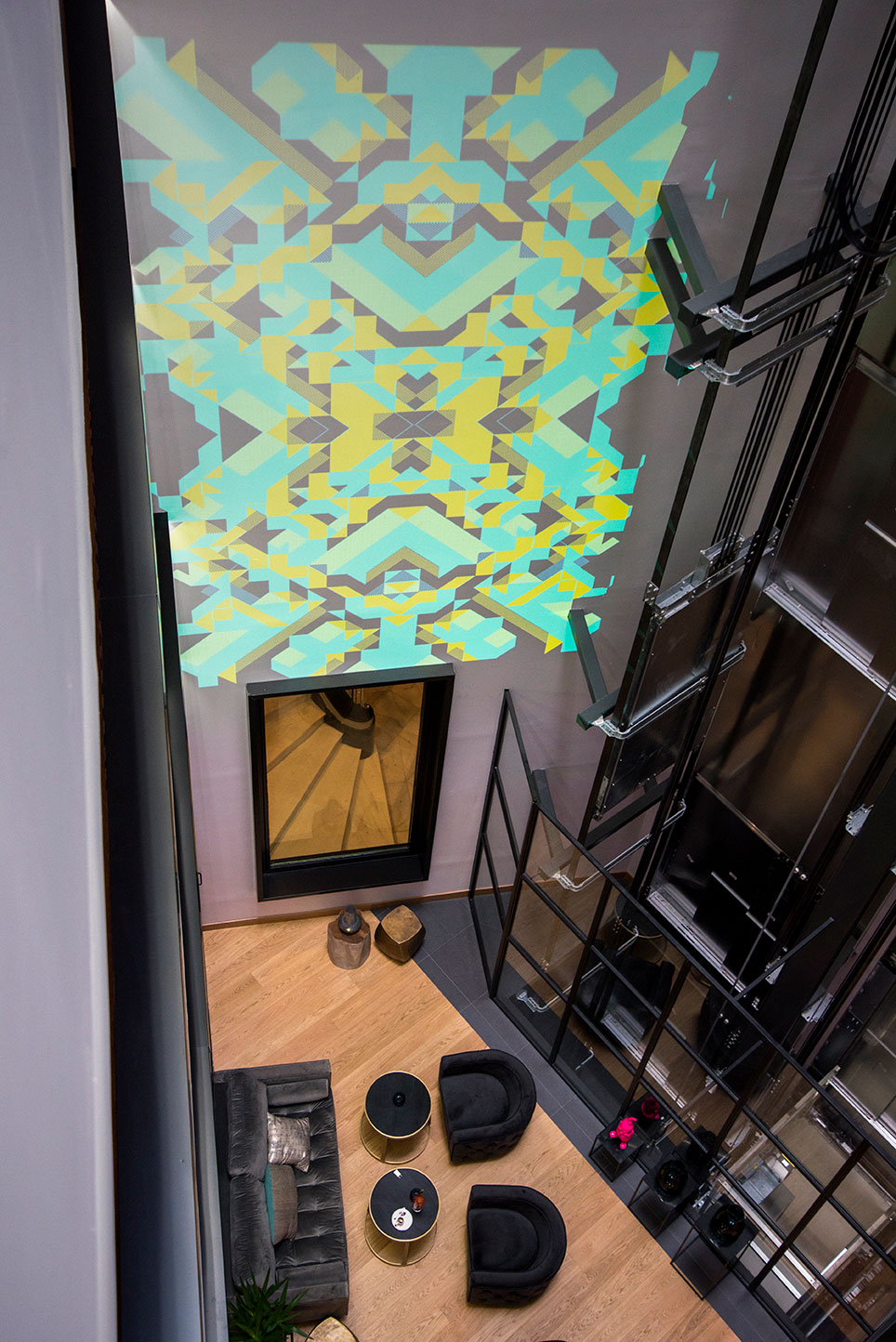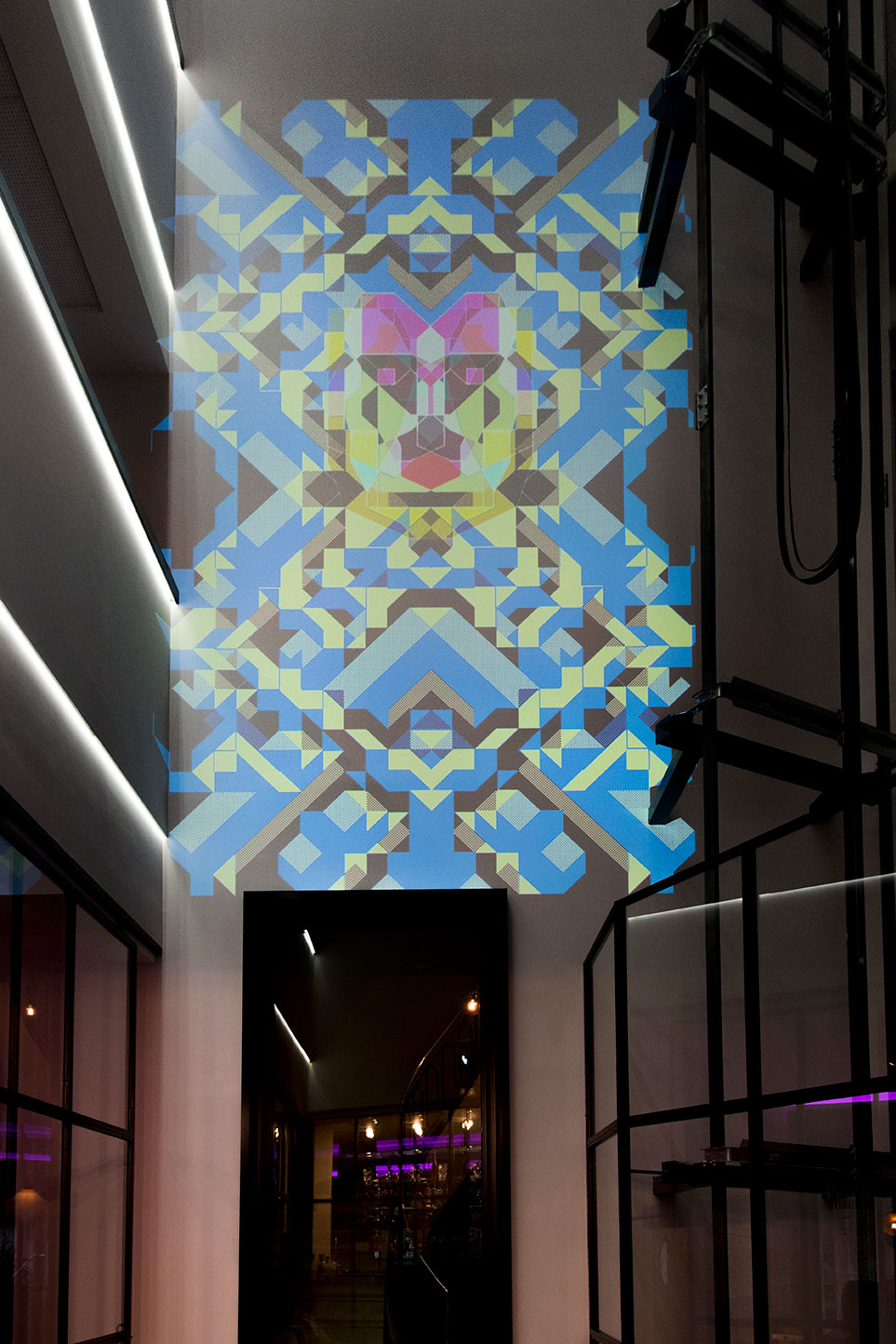 Título: "IFF"
@rakelmeyers
Raquel Meyers (1977) is a Spanish artist who defines her practice as KYBDslöjd (drawing/crafting by typing) using technology from the past. Woven with Commodore 64 characters sets, flickering in teletext, or fed to fax machines, her world of mythical creatures and dreamlike pilgrimades is one of patience and resolve. Frame-by-frame and glyph-by-glyph, we descend into a jagged wonderland where time stands still and chaos reigns. Since 2004 she has performed at festivals like Transmediale, Piksel, Mapping, La Casa Encendida and Cimatics, at 8bit events like Tokyo Blip Festival, Square Sounds Melbourne and the Playlist exhibition, as well at Liste Art Fair Basel, Ars Electronica Center, Alingsås Konsthall, Bonniers Konsthall, Xpo Gallery, Click New Media Arts Festival, Alt_Cph, HeK, BEK- Bergen Center for Electronic Arts, LABoral and iMAL.
Fermín Moreno (Entrada)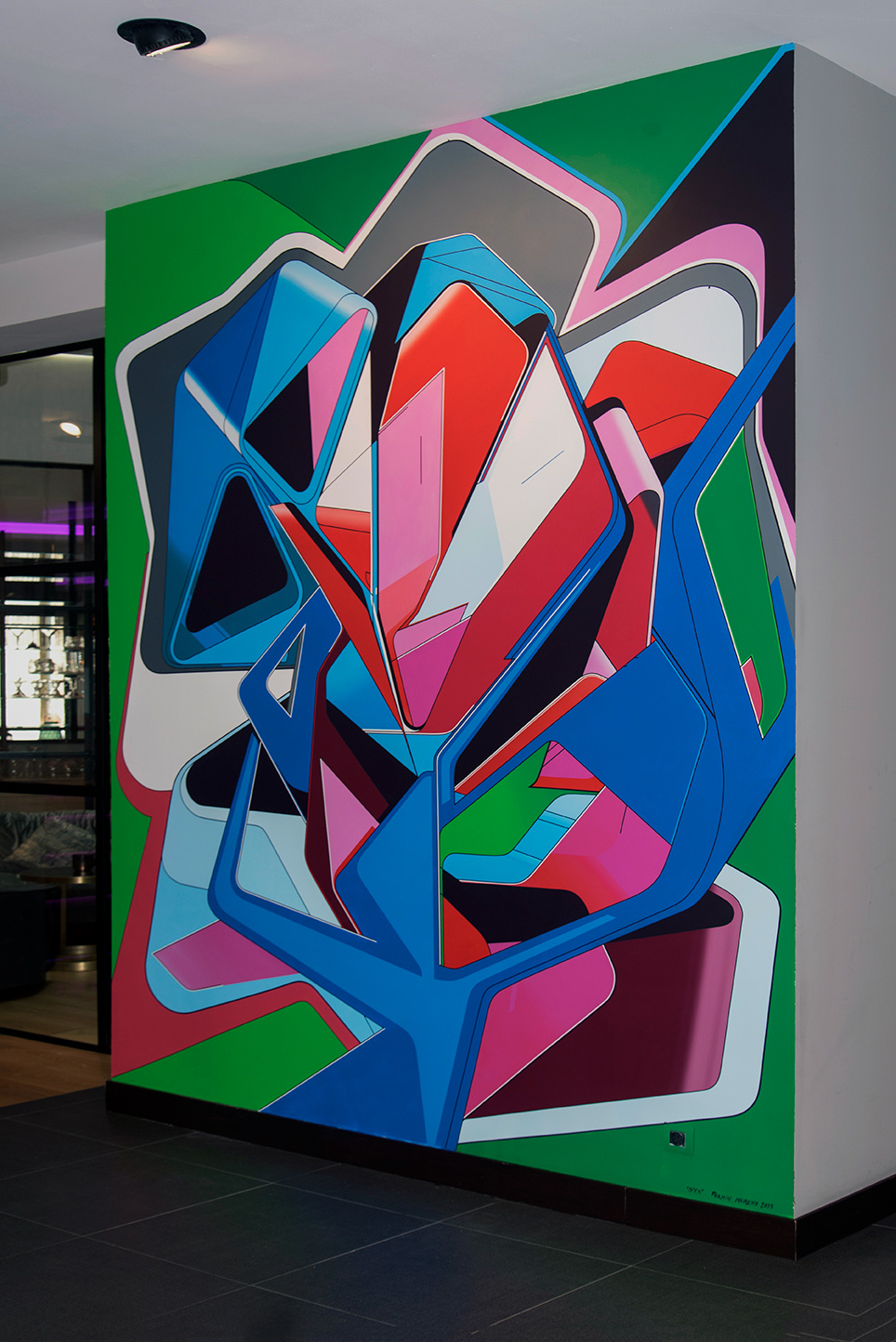 Título: "NYX"
@ferminmorenomartin
During his trajectory Fermin Moreno Martín (1970) explored different kinds of media like video, painting (on canvas and mural), graphic design and Street Art. But his poetry is best appreciated when painting on canvas, where the peculiarities of the distinct media unite in harmony. The uncommon and pleasant geometry of Moreno is filled with vibrant colors, movement and dynamism which confer a general ludic tone to his works. The big size of the canvas and murals helps to impress the spectator, as his monumental dimensions transmit a sensation of coverage and active participation in the visual party of colored multi-path networks.
In Moreno's work exists a preference for inequalities, contrasts and irregularity. On a conceptual level, the clash between chromatic color and the mathematic coldness of the lines that tend towards the infinite is a macro-reflection of a tendency to implicit contrast on a material level of the work, in the dynamic of the graphic representation of the geometric shapes that travel, cross themselves, mix up, tie up, suddenly change direction or twist themselves. Fermin Moreno Martín works with every kind of surface and texture, every kind of line in a game of tortuosity, sinuosity and branching. On canvas he creates the "precision of chaos", giving life to global works in which abstraction and physicality merge without conflict.
Iñigo Sesma (Planta 1)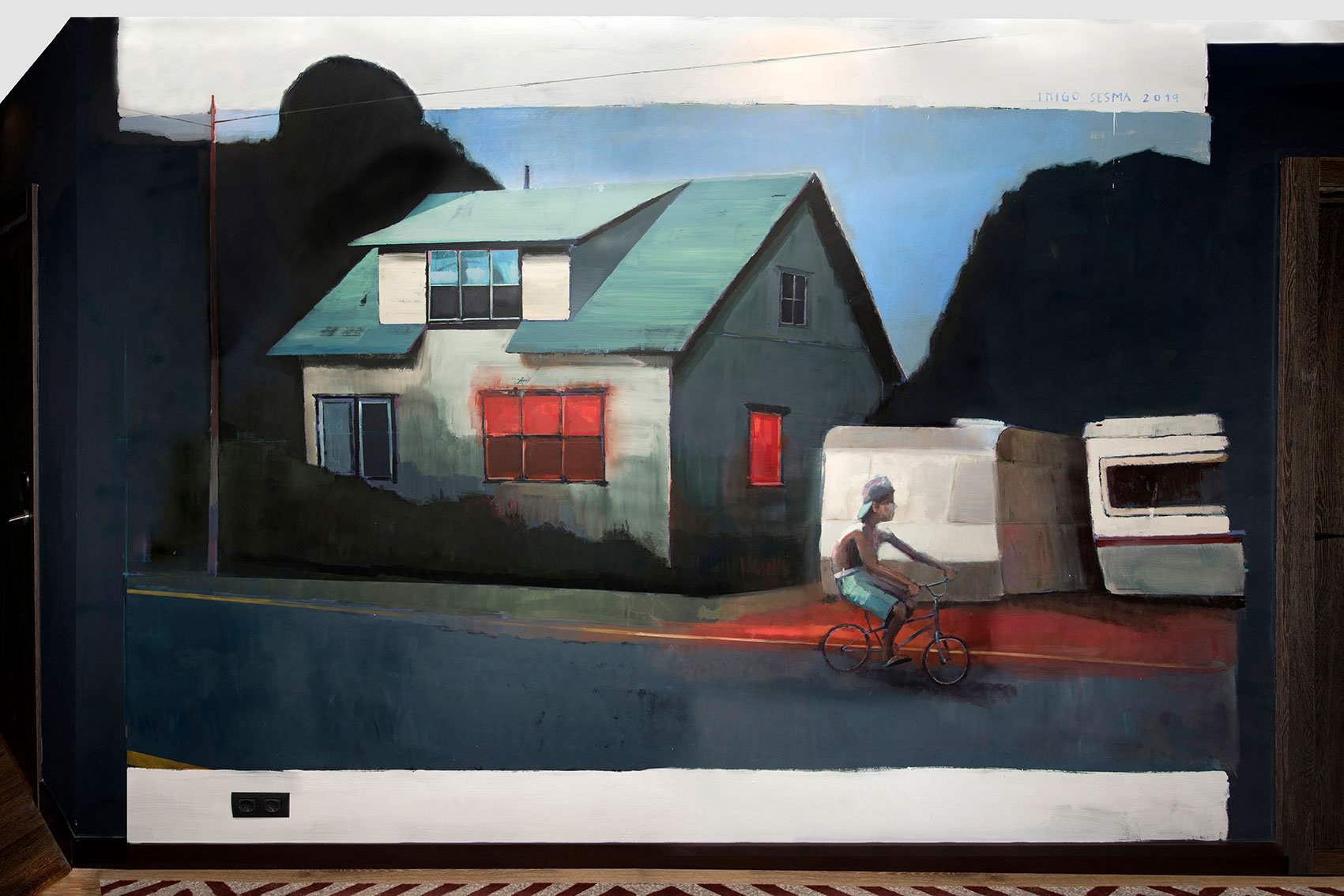 Título: ¨Ballville¨
@issesma
The basis of his artistic production oscillates between the possibilities and limits of manipulating the image and its picturesque representation. It's about the process of observation in which the artist tries to understand the reality through the creation of the image.
Sesma's kinetic, televisual and literary influences have favored the evolution of his work, the cinematographic notions helped him to rethink several pictorial questions which present his work as a whole: an interrupted sequence or continuity of images which establish a relationship between the painting and movies. The topics of his work are related to the American literature of the 50's, the so-called "Beat Generation" and create a strong aesthetic relationship with the concept of "travel" and a picturesque discourse with everything that the word includes.
Estela Miguel (Planta 2)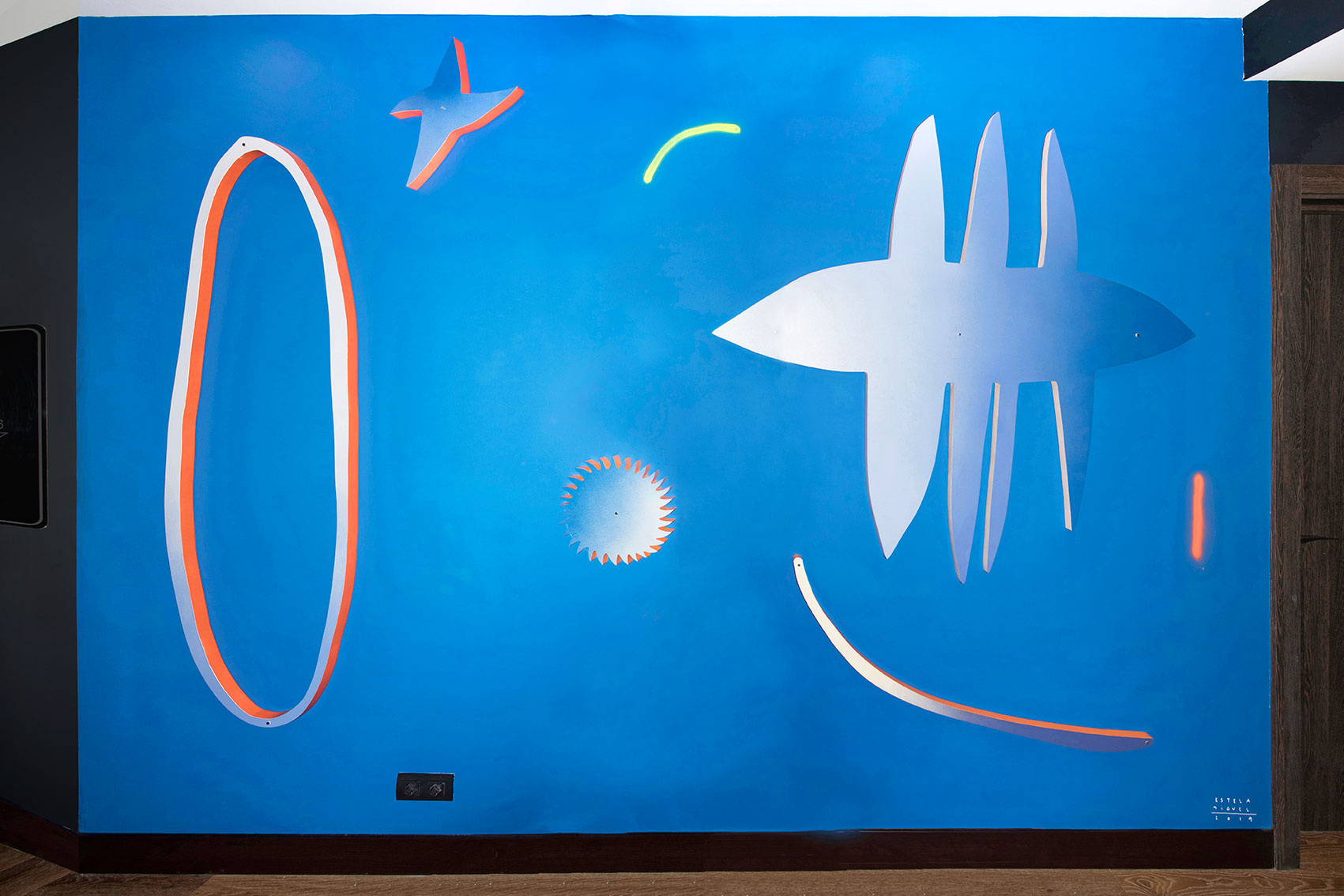 Título: "Blue Stop"
@estelamiguelb
Estela Miguel (1992) is an interdisciplinary artist who works with all kinds of media, from graphic printing on paper to murals and sculptures made with found objects and ceramics. The process of collecting, pasting and gathering materials and various objects helps her to create encounters and compositions, simple interactions that speak of an alterable context. Her creative process arises from the need of manual praxis, from the experiential and every day, the random and the decision making. Deciding previously is like destroying her motivations and environment. A process that begins on paper, builds objects and connects them through the installation.
Xabier Anunzibai (Planta 3)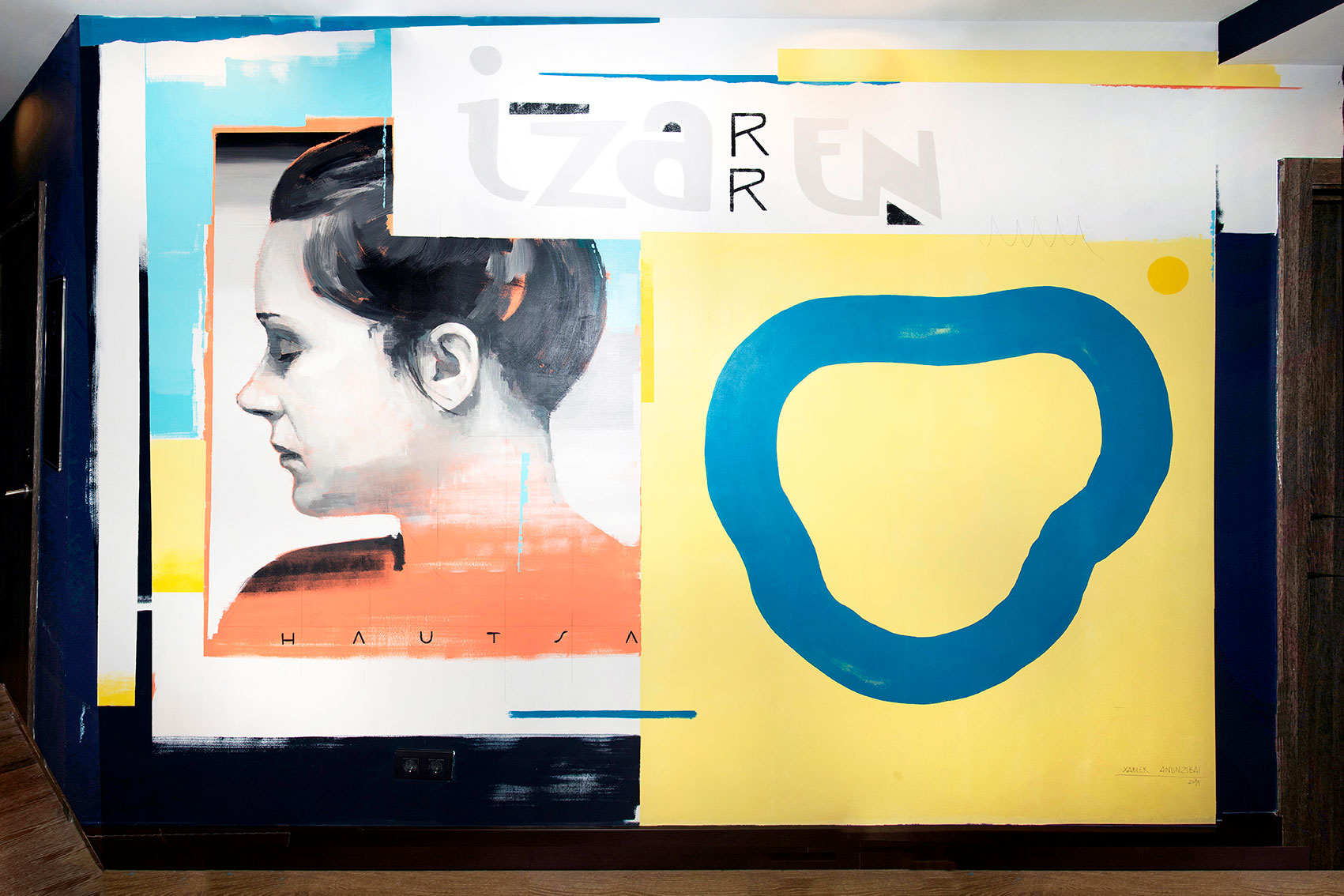 Título: "Izarren hautsa" (Stardust)
@xabier_anunzibai
Xabier Anunzibai (1985) develops his work both within the studio and outside of it, either by making paintings, murals, installations or small animations. He has always worked with his hands both to paint and to build, without accommodating in a single line of work. Short phrases and single words are recurrent in his work, reflections and ideas to which he gives shape through different techniques and materials.
Reskate (Planta 4)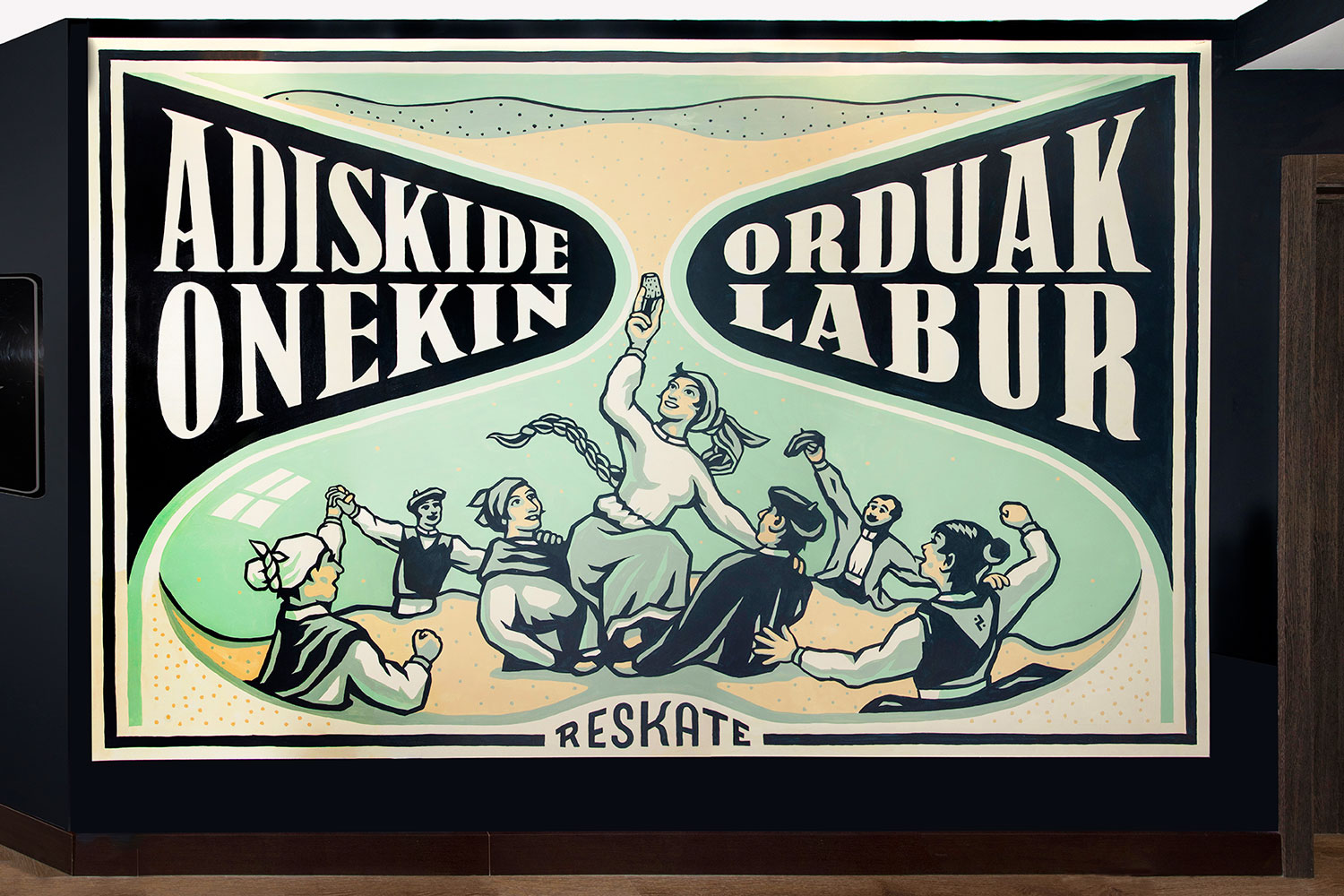 Título: "Adiskide Onekin" (With Friends)
@reskatestudio
Reskate is an artistic collective formed by the visual artists Maria López (1980) and Javier de Riba (1985). Influenced by classic sign-painting, popular culture, and graphic design, their work includes murals, illustrations, exhibitions and installations.
As an artistic collective, they question their style in every project, believing firmly that the aesthetics, techniques, and materials used must never be taken for granted – on the contrary, they must exist as a vessel to convey and amplify the work's underlying message.
In their murals, they introduce works that are connected with the space around it, representing stories and facts of the local culture. Through this, they make the identity of the mural's surroundings visible.
Raisa Álava (Planta 7)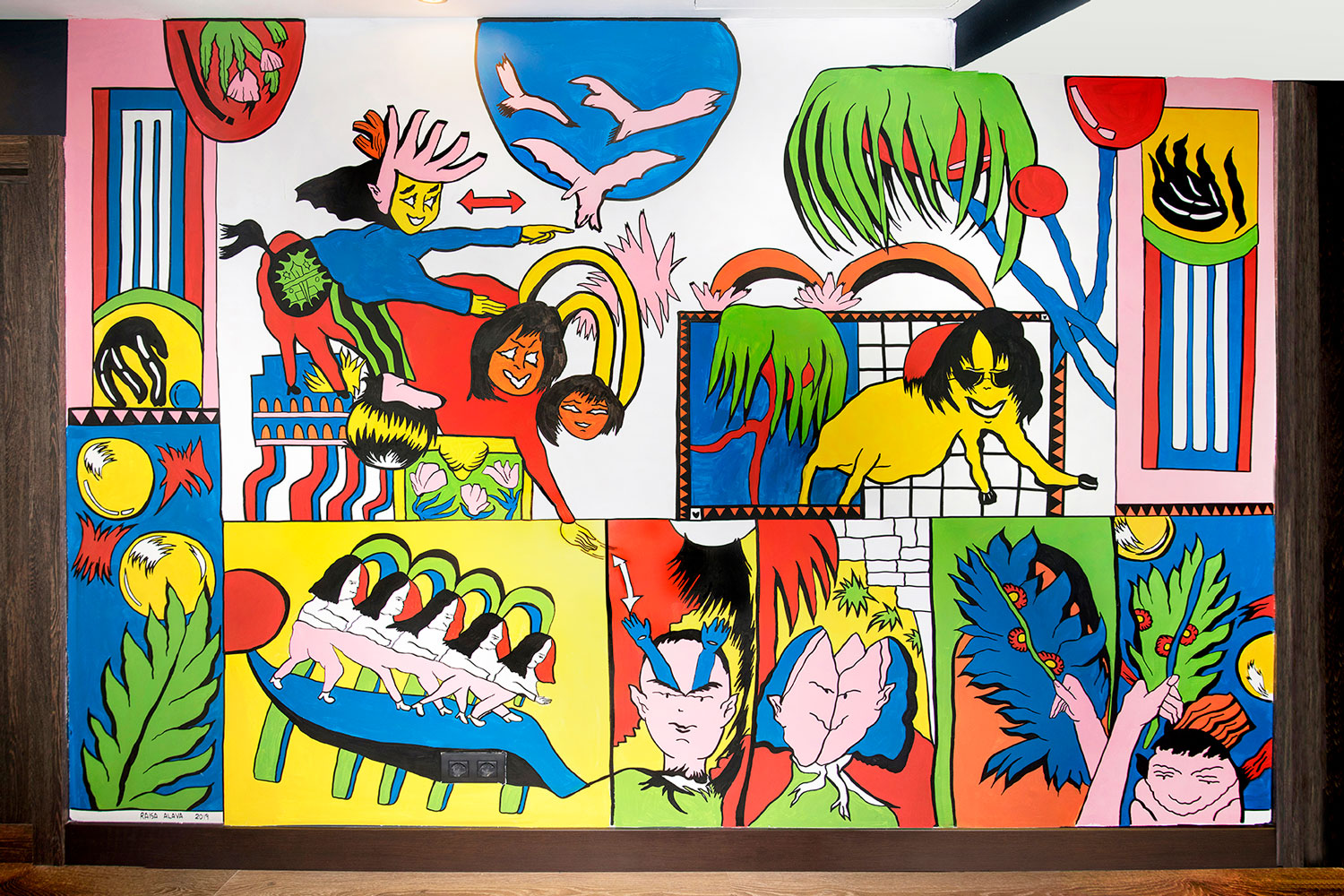 Título: "Lorategi" (Garden)
@raisalava
Raisa Álava (1990) is an artist specialized in drawing, engraving, silkscreen, illustration and ceramics. Her work is inspired in lived and imagined experiences, the collective memory, comics and random thoughts. Her work is based on drawing, specifically on lines which she is creating almost automatically, without any references, only inspired by her memories and imagination.
Murone (Terraza)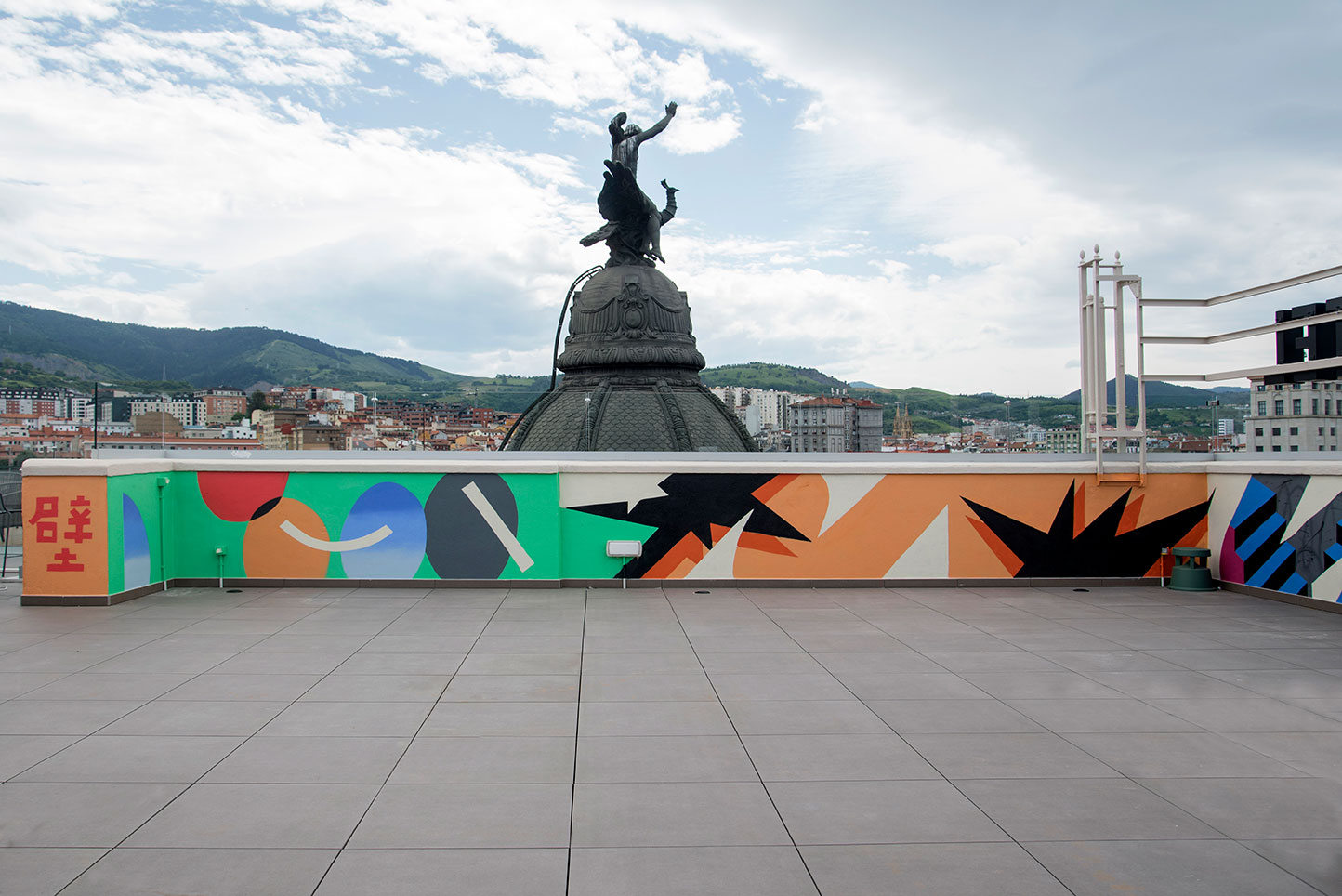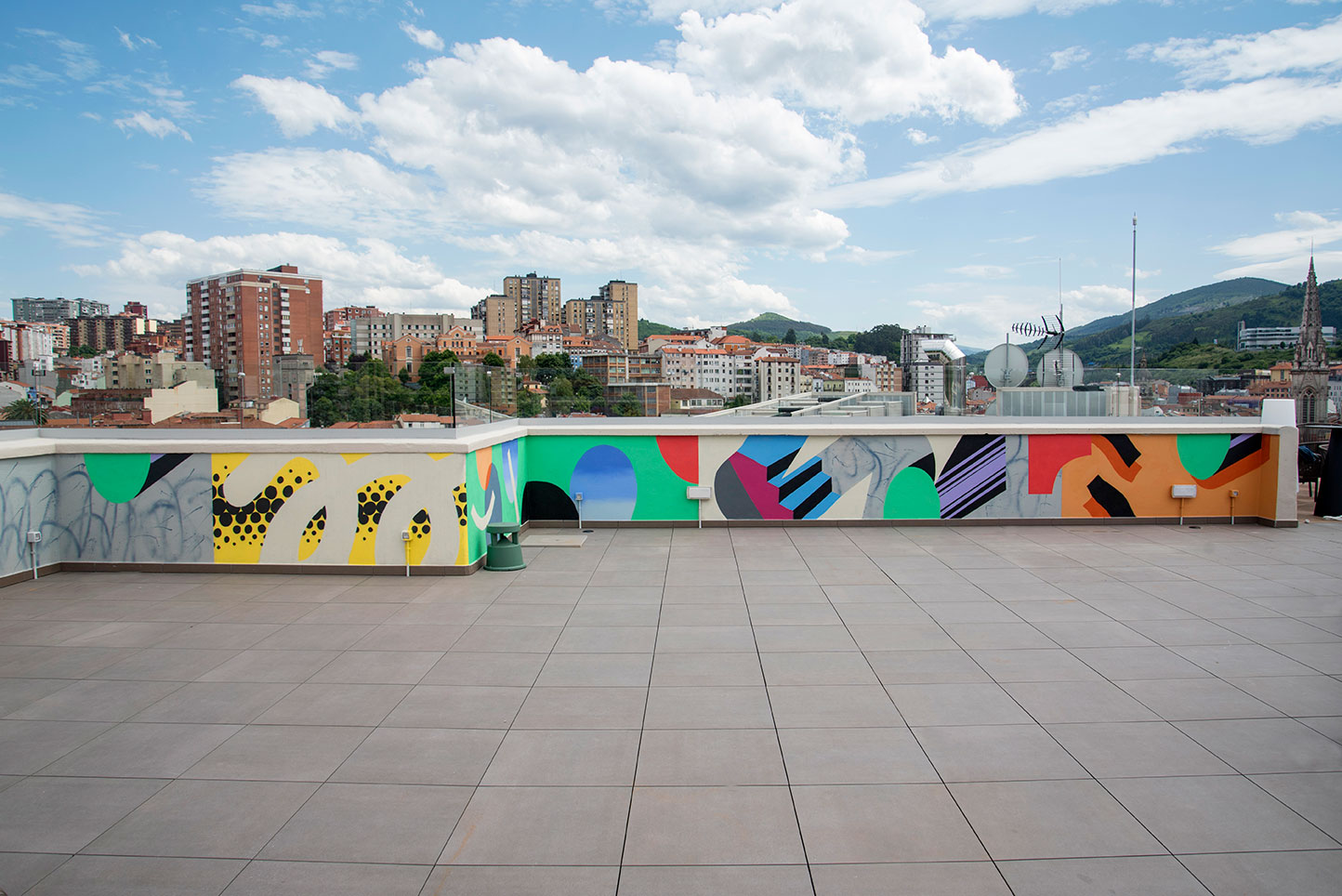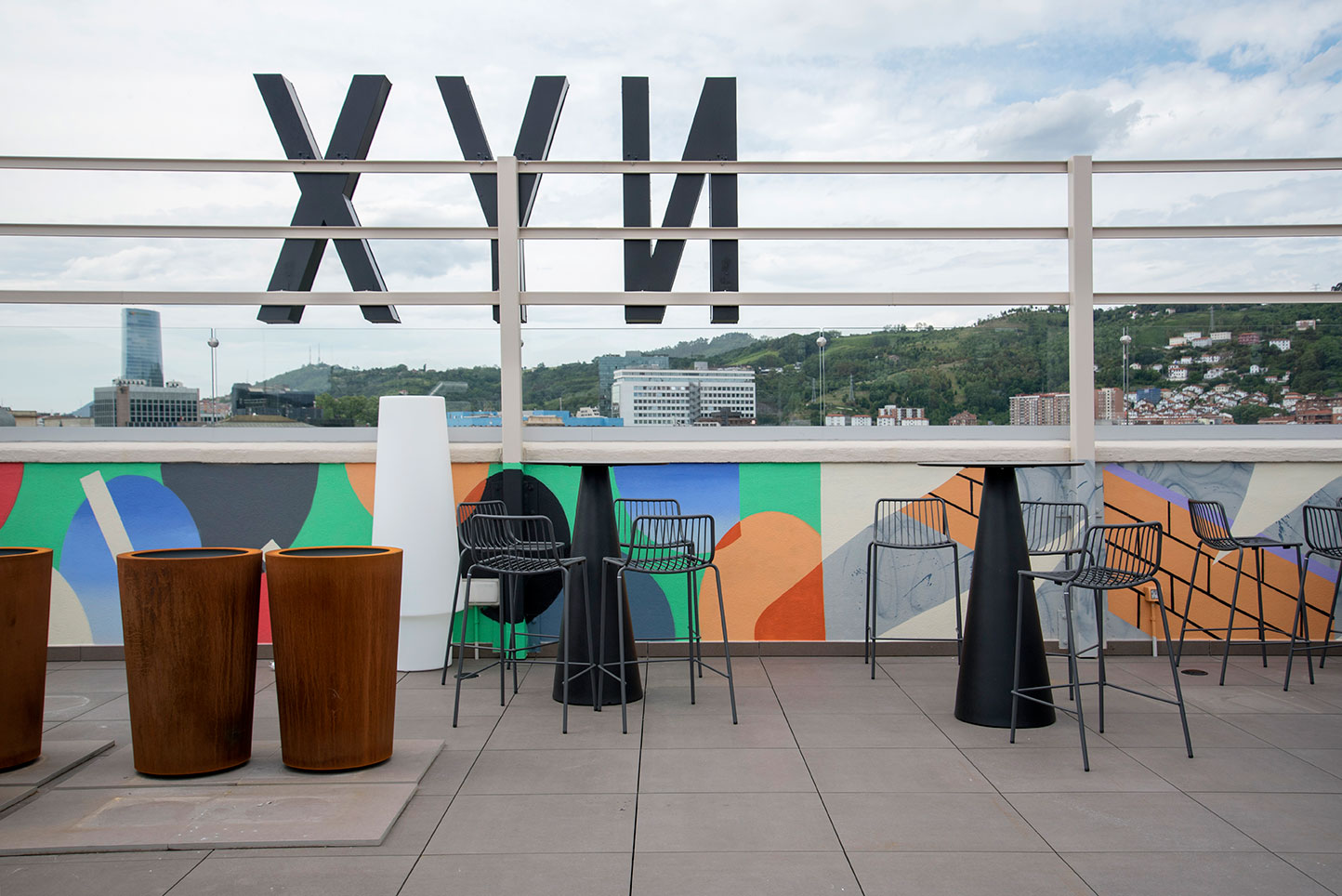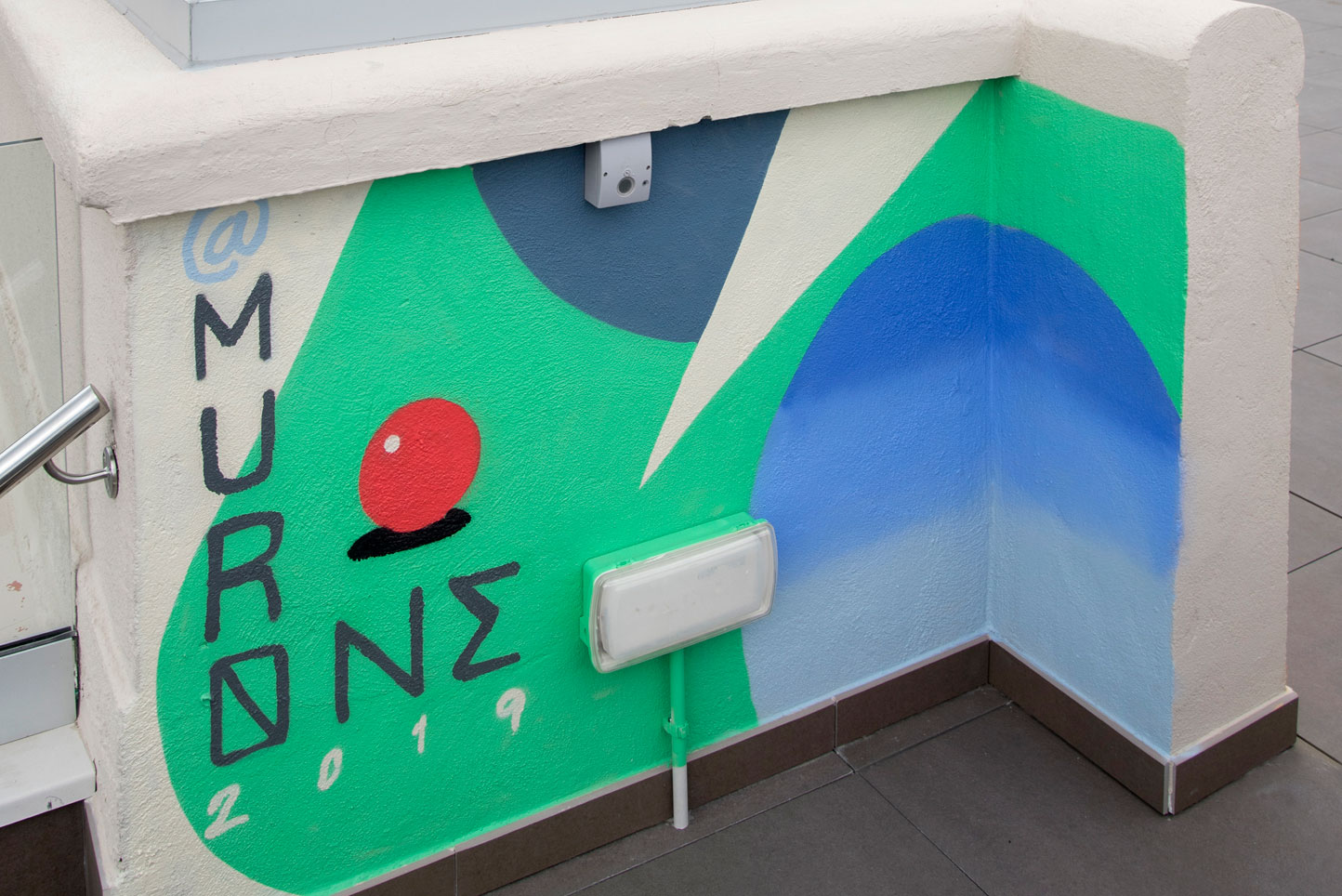 Título: Untitled
@Mur0ne
Iker Muro, MurOne, (1979) is an illustrator and graphic designer who began creating public murals in 2002. Muro describes his work as "an acid mixture of pop culture, graffiti, illustration and graphic design." As a youth, he began painting on skateboards, and drawing caricatures of teachers and classmates at his desk in the back of the classroom. He went on to complete his studies in graphic design and works in many different disciplines including graffiti, graphic design, prints and large-scale murals.
Muro's vibrant and bold murals strike a distinctive balance between design and art. His work is inspired by his extensive international travels and by whatever city he is painting in. "Travelling and discovering different cultures is a gift," he says. "I feel lucky to make my living with what I love, I don't know what will happen in the future, I don't have a job and a stable life, but painting and giving life to places that don't have it is very gratifying."